DANIEL BINELLI, (Argentina) is an internationally renowned master of the bandoneon, seasoned composer and experienced arranger specialized in all styles of tango.

Binelli is widely acclaimed as the foremost exponent and torchbearer of the music of Astor Piazzolla. In 1989, Binelli joined Astor Piazzolla´s New Tango Sextet, touring internationally. Previously, from 1968 until 1982, he was a member Osvaldo Pugliese´ s Orchestra, for which he created many arrangements.

"Binelli's ability to wring melancholic sobbing and sighing out of this reedy instrument, combined with an exceptional sensitivity towards Piazzolla's melodic inspirations, is both remarkable and evocate."

Sydney Opera House, Sept.2003
THE AUSTRALIAN

:

:: Download sample of Binelli´s great interpretation of
Piazzolla´s Adios Nonino
:


: : Tango Arrangements

: :

Performances

: : Related Articles
Gary Burton, the "Tango Man"
Gary Burton, one of the most important artists in the modern jazz scene, meets Pablo Ziegler, Fernando Suárez Paz and Héctor Console, together with Daniel Binelli and young Marcelo Nissinman to record "Reunión", a homage to Astor Piazzolla.
| more ( spanish version only) |
Saturday Evenings-Carnegie Hall
Perspectives: Martha Argerich
ORCHESTRE SYMPHONIQUE DE MONTREAL
Chales Dutoit (director), Martha Argerich (piano), Daniel Binelli (bandoneón) | more |



| | |
| --- | --- |
| : : BINELLI - FERMAN DUO | |
| | |
| --- | --- |
| | World-class musicians Daniel Binelli and Polly Ferman have united their talents to develop and further the appreciation of the tango, milonga, Candombe, and other Latin American musical forms in the rarely heard partnership of the bandoneón and piano. |

| | |
| --- | --- |
| : : DANIEL BINELLI PAYS HOMAGE TO TANGO | BINELLI - FERMAN DUO | |

| | |
| --- | --- |
| | Bandoneonist Daniel Binelli, pianist Polly Ferman and guitarist Eduardo Isaac collaborate to recreate a repertoire ranging from old tango by Medizabal to compositions of the new century. |
New Tango Vision

Binelli, Ferman & Isaac Trio
© 2006 New Vision

On KING (Japan)

La Música Argentina y el Tango
with Eduardo Issac (guitar)
New on Storie di Note !



Tango and Friends




Tango and Friends

featuring Daniel Binelli

New on SONORAM !

MIMAME Bandoneon
ALAS featuring Daniel Binelli
New on SONDOR Records !
Orquestango
Daniel Binelli &
Polly Ferman
with Filarmónica de Montevideo
New on RANDOM Records !

Tango Natural
Daniel Binelli &
César Angeleri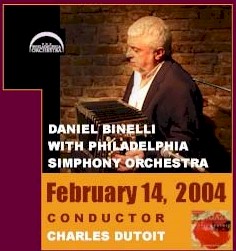 "...Mr. Binelli brought florid virtuosity and high-pressure emotionalism to "Aconcagua," a concerto with string orchestra and percussion by Astor Piazzolla."
Bernard Holland
THE NEW YORK TIMES
3/3/2004